Low and Medium Voltage Substation/Switchgear
IETS performs maintenance contracts for several large manufacturing and power generation facilities. Every manufacturer of LV/MV breaker, relay, starter, switch and transformer has been serviced by our experienced staff of Field Service Engineers and Technicians. We will customize a maintenance plan, after thoroughly understanding your distribution system, or review/quote to your existing maintenance procedure specifications. We would be pleased to review your maintenance plan and offer any suggestions we feel may be beneficial.
Emergency- 24/7 Service
All Switchgear Manufacturers
Custom Preventative Maintenance Programs
Shutdown/Outage Maintenance
Thermographic Inspection & Analysis
Complete Testing & Repair- Relays, Switches, Cables, Bus, Transformers, Network Protectors, Starters
Low Voltage Circuit Breaker Refurbishment and Trip Unit Retrofits
Medium & Low Voltage Circuit Breaker Remanufacture
OEM Vacuum Replacements
Matching Line Up
---
Bolted Pressure Switch Replacement with LV Circuit Breaker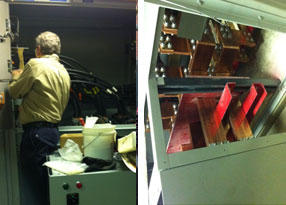 Re-Insulate MV Switchgear
During another routine maintenance contract for a customer, IETS discovered a section of switchgear that had very poor insulation resistance measurements on one phase of bus as compared to the others. As the customer did not have time for an outage, IETS returned later to re-insulate all of the bus sections throughout the gear. IETS obtained all of the necessary bus insulating materials, staffed the job around the clock and completed the project within the customer allotted time frame. During assembly we noted that the old insulation had deteriorated and that some of the bus was pitted and arcing to the metal cabinet walls. This was a perfect demonstration of how performing routine maintenance can translate into significant savings for the customer by avoiding a catastrophic failure and/or the need to replace equipment.