How Can We Help You?
As an Electrical Field Service organization complete with every type of field testing
equipment and vast engineering service expertise, we can help you.
We know that the reliability and performance of your essential electrical assets — including transformers,
switchgear, circuit breakers, protective relays, switches, etc., is critical to your operation and directly affects your facility's performance and profitability.  With the expertise our customers have come to rely on, we can assist you with any stage in the life of your power distribution system, from design and installation, commissioning, preventative maintenance and testing to 24 hour emergency response.
Transformer Services

IETS can provide skilled and trained engineers and technicians to meet your maintenance, service and repair needs...

HV Substation/High Yard

One of IETS' strengths is in the maintenance, upgrade and repair of HV Substation/High Yard equipment...

LV & MV Substation/Switchgear

IETS performs maintenance contracts for several large manufacturing and power generation facilities....

Power System Engineering

IETS engineers can provide, upgrade or modify any of the power system needs you may have...

Project Management

IETS can provide solutions to your power project needs.  From "greenfield" high yard substations...

Safety & Training

IETS Provides electrical safety training to several of our customers...

PCB Services

Many plants still find themselves with PCB equipment they need to dispose of.  IETS field service engineers are trained in the proper OSHA Hazwopper/ EPA regulations and procedures. 
Did you know that IETS Reconditions/ Retrofits/Repairs over 200 Circuit Breakers a year?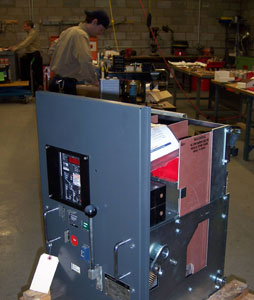 We have a complete Upstate NY Circuit Breaker Facility and provide maintenance solutions on breakers from 480V to 34.5KV in house and up to 345KV in the field. Our engineers and technicians have the expertise to repair any OEM circuit breaker. (GE, ABB, Cutler Hammer, Westinghouse, Square D, Siemens, A-C, etc.) We have contracts with several customers to maintain breakers on a continual basis. Our breaker maintenance procedures are always tailored to the needs of individual customers as some want minimal testing procedures while others request a complete refurbishment and retrofit of their outdated breakers.
Our Circuit Breaker Services
Go Above and Beyond
IETS will custom tailor a circuit breaker program that will provide the level of maintenance you desire, from simply testing the breakers to complete remanufacturing. We will pick up and deliver the breakers from our facility, ensuring they will not be damaged during shipping. A copy of our complete findings report is delivered with your circuit breaker.
---